The Eyes of My Mother: An Unsettling Story Best Viewed Through the Eyes of Seasoned Horror Fans
Review by Cristalena Fury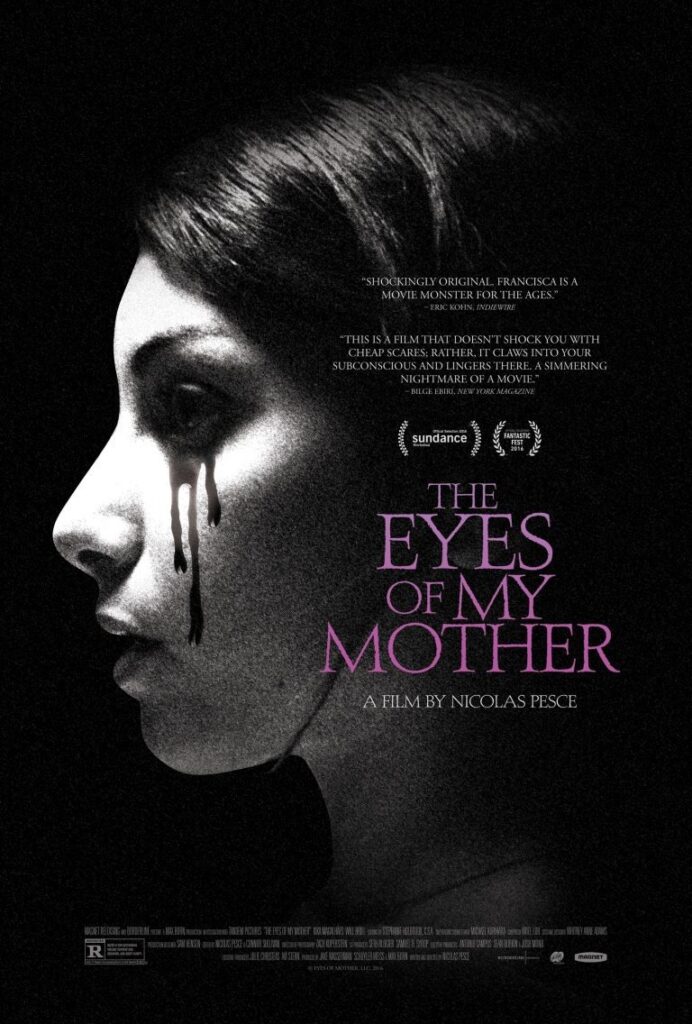 The Eyes of My Mother is the quietly disturbing directorial debut from Nicolas Pesce, who also wrote and edited the 2016 black and white film. The movie opens with a young Francisca, who's enjoying a seemingly ordinary day in the garden with her mother. As the scenes progress, we learn that Francisca's mother was a surgeon in Portugal, and has since taught her daughter about the normalcy of death and the intricacies of the human anatomy, both of which play important roles throughout the unsettling film. The unassuming afternoon is broken by the arrival of a drifter, who seamlessly transitions from friend to unhinged foe once he has persuaded the unnamed mother to let him enter the house. Her reluctant acceptance sets the rest of the movie into motion, but it is her eerily detached interaction with her daughter that sets the tone for the disturbing events which follow.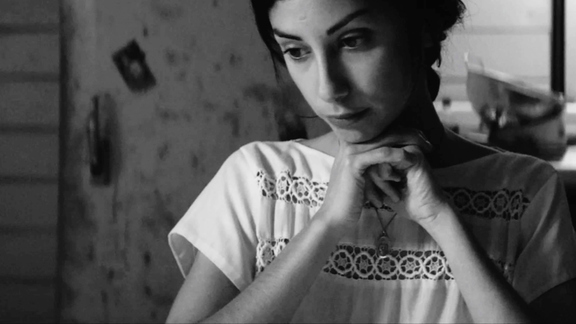 Pesce's debut is refreshingly plot driven, and doesn't rely on a large musical score, endless dialogue, or shock value scenes. Instead, Pesce wrote his film with sparse, yet affective dialogue. It serves its purpose by developmentally furthering the plot without becoming stale. The scenes are relatively quiet and uncomfortably drawn out throughout the entirety of the film. They are powerful in their simplicity, subtly digging their way underneath the viewer's skin until an unwelcome tension courses throughout their veins. All violence occurs off camera, but the modest amount of gore which is shown is disconcerting, yet artfully done and integral to the overall story. Thoughtfully chosen camera angles and beautifully simple music are used to draw us into Francisca's sinister world as an outsider. The viewer is left wanting to help, but unable to do so.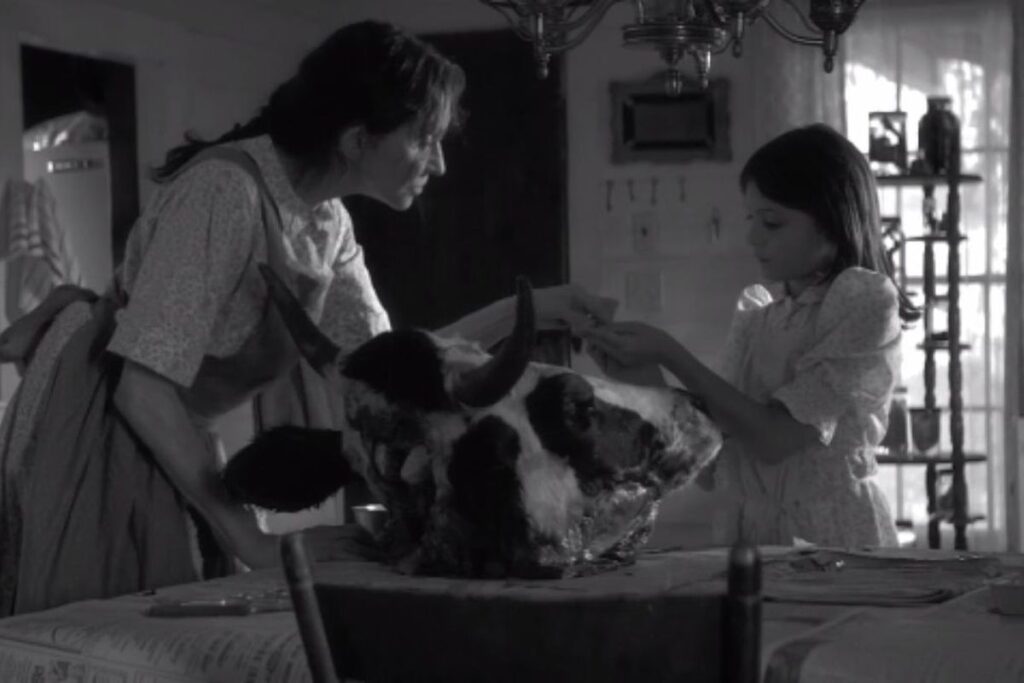 The story continues to unfold at a deliberately gradual pace with a necessarily small number of characters. Francisca's world is relatively self-contained, but the introduction of these new characters reinforces the fact that she is both lacking the relationship and comfort of others, yet also the ability to properly accept and return them. She does little to seek these out, but once
acquiring them, holds them at a brutal and horrifying distance. In her attempt to heal the trauma from losing her parents, who she so dearly loved despite their lukewarm family dynamic, Francisca goes to extremes to keep what she so desperately needs. While the use of cutaway scenes has the potential to leave viewers visually dissatisfied and devoid of answers, the
director's style mimics Francisca's unraveling wellbeing and devolving sense of reality. It is the protagonist's crushing isolation and her increasingly detached ways to fill it that drive the story, but it's an unfulfilling one that never quite peaks.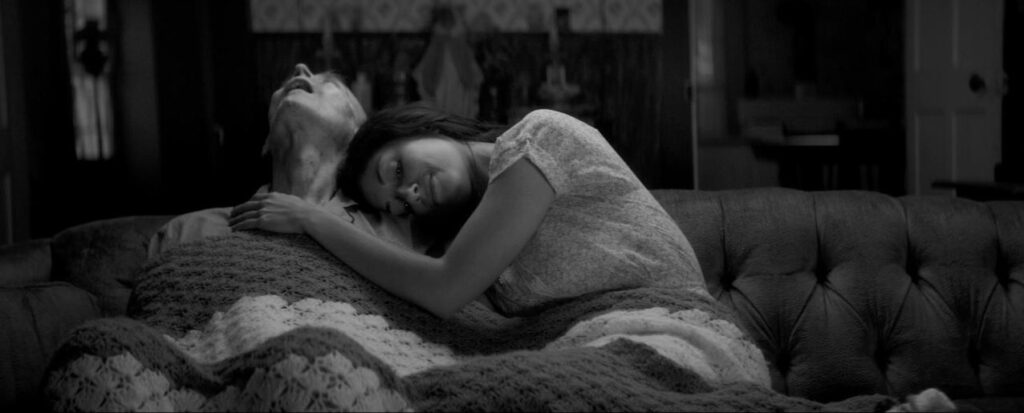 Pesce's ending is surprisingly abrupt, an unwelcome change compared to the creepily steady rate of the rest of the movie. While it's heavily implied what happens during the prior cutaway scenes, viewers are left to frustratingly wonder the fates of Francisca and her son with the film's last one. Having a satisfyingly conclusive ending is a privilege that feels earned after seventy-five minutes of presumptive guesswork. Or at the very least, an ambiguous ending that fits into the character of the collective story. Overall, the execution of the plot was permeated with dark themes, punctuated by affectively minimal dialogue and musical score, as well as unsettling long takes and static camera angles that separate us from Francisca as much as she's
mentally separated from the few characters who comprise the rest of the plot. I would recommend The Eyes of My Mother to seasoned fans of dramatic horror, not to the casual fan, who relies on stereotypical jump scares and fast paced plots as their source of enjoyment and determining factors for a successfully made horror movie.
About the author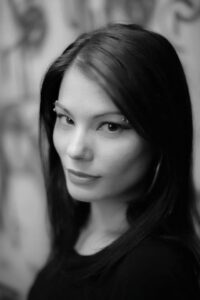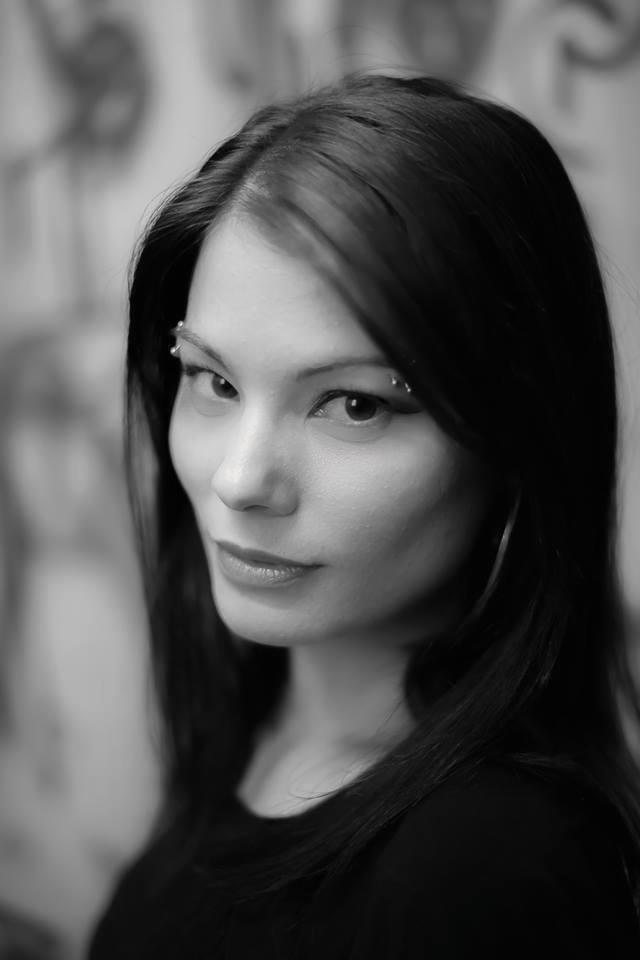 Cristalena Fury is a published horror author and alternative model from the Philadelphia area. She considers herself a metalhead hippie who finds interest in everything dark, disturbing, and gory, with a love of big, black boots and all things chocolate on the side.
http://www.facebook.com/cristalenafury
Instagram @cristalena.fury
Schatten Muse Debut Album- Vergänglichkeit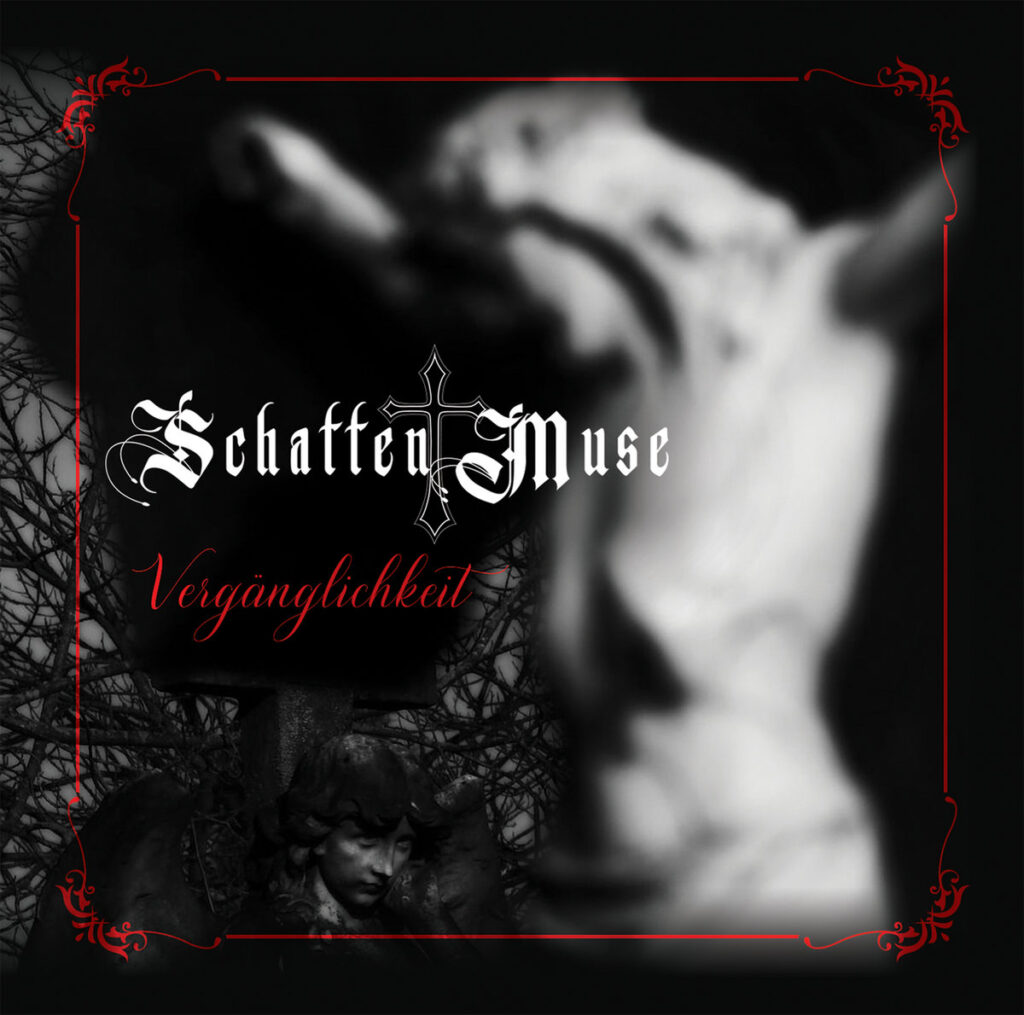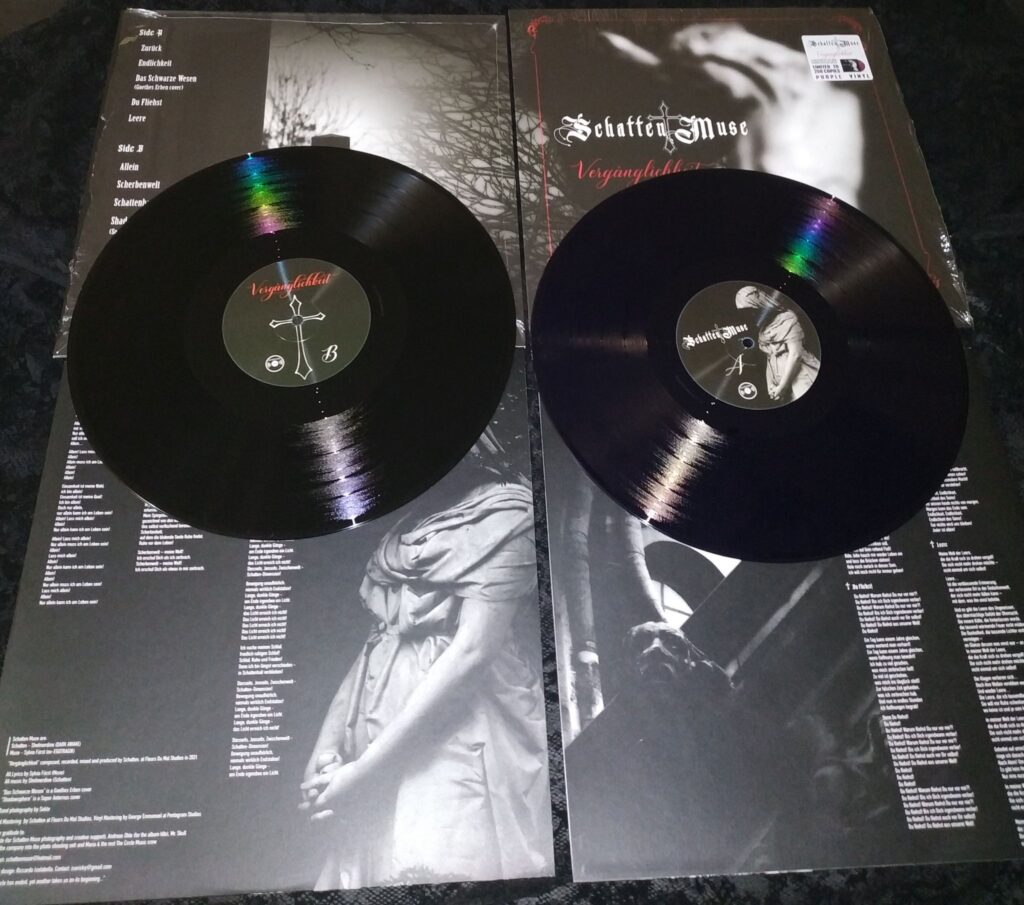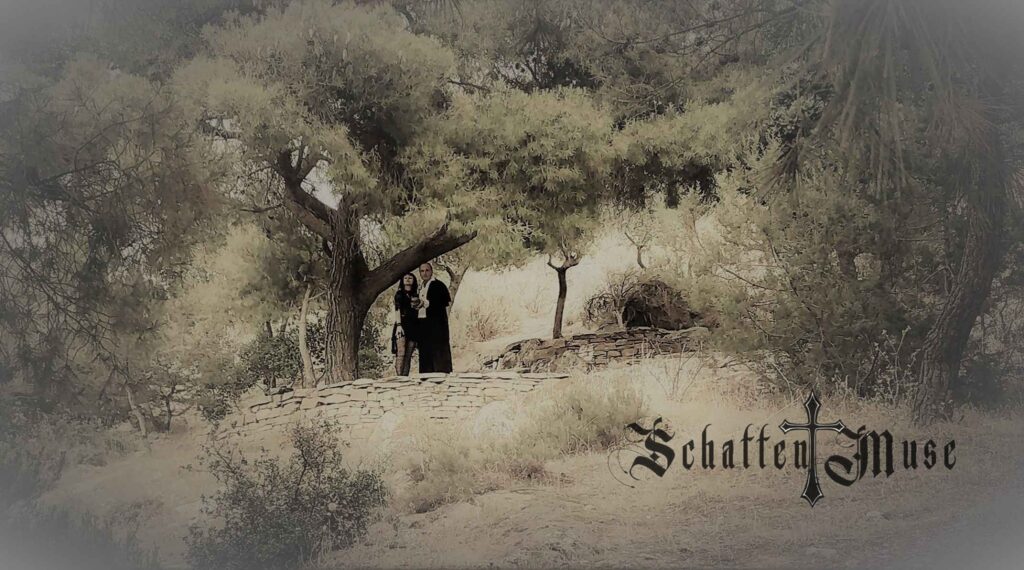 • 𝐒𝐜𝐡𝐚𝐭𝐭𝐞𝐧 𝐌𝐮𝐬𝐞 – " Vergänglichkeit " Album released by The Circle Music in March 2022.
𝐍𝐞𝐰 𝐆𝐞𝐫𝐦𝐚𝐧 𝐃𝐞𝐚𝐭𝐡 𝐀𝐫𝐭 "𝐍𝐞𝐮𝐞 𝐃𝐞𝐮𝐭𝐬𝐜𝐡𝐞 𝐓𝐨𝐝𝐞𝐬𝐤𝐮𝐧𝐬𝐭"/ Gothic
Female Vocals , Lyrics : Sylvia Fürst
Music: Shelmerdine
𝗣𝘂𝗿𝗽𝗹𝗲 𝗩𝗜𝗡𝗬𝗟 𝗟𝗣 / 𝗕𝗹𝗮𝗰𝗸 𝗩𝗜𝗡𝗬𝗟 𝗟𝗣 / 𝗔𝟱 𝗗𝗶𝗴𝗶𝗽𝗮𝗰𝗸 𝗖𝗗 / 𝗝𝗲𝘄𝗲𝗹 𝗰𝗮𝘀𝗲 𝗖𝗗
►https://schattenmuse.bandcamp.com/releases
FACEBOOK page :
►https://www.facebook.com/schattenmuse
YOUTUBE page :
Schatten Muse – Vergänglichkeit
Sept. 10, 2022 : Author: Azrael Hex
Schatten Muse is like the classic alchemist of the middle ages blending components of gothic, darkwave and neo-classical sounds that have a heavy 80's and 90's nostalgia with a Neue Deutsche Todeskunst (New German Death Art) flavor and turning it into pure musical gold. Their debut album Vergänglichkeit was released back in March under The Circle Music label. This German/Greek band is bound to make dark waves for all who listen to their hypnotic rhythms and lyrics.
Like Homers 'Odyssey' Schatten Muse takes us on a journey through the human experience with a haunting clarity that truly hits its mark. When the duo were asked to describe their album concept this is what they had to say " m𝘶𝘴𝘪𝘤𝘢𝘭 𝘢𝘯𝘥𝘭𝘺𝘳𝘪𝘤𝘢𝘭 𝘤𝘰𝘯𝘤𝘦𝘱𝘵 𝘪𝘴 𝘢𝘣𝘰𝘶𝘵 𝘥𝘢𝘳𝘬𝘯𝘦𝘴𝘴, 𝘮𝘦𝘭𝘢𝘯𝘤𝘩𝘰𝘭𝘺, 𝘪𝘴𝘰𝘭𝘢𝘵𝘪𝘰𝘯, 𝘱𝘩𝘪𝘭𝘰𝘴𝘰𝘱𝘩𝘺 𝘰𝘧 𝘭𝘪𝘧𝘦 𝘢𝘯𝘥 𝘥𝘦𝘢𝘵𝘩, 𝘴𝘰𝘭𝘪𝘵𝘶𝘥𝘦, 𝘮𝘢𝘥𝘯𝘦𝘴𝘴, 𝘥𝘦𝘱𝘳𝘦𝘴𝘴𝘪𝘰𝘯, 𝘥𝘦𝘴𝘱𝘦𝘳𝘢𝘵𝘪𝘰𝘯, 𝘴𝘶𝘳𝘳𝘦𝘢𝘭𝘪𝘴𝘮, 𝘦𝘹𝘱𝘳𝘦𝘴𝘴𝘪𝘰𝘯𝘪𝘴𝘮, 𝘦𝘹𝘪𝘴𝘵𝘦𝘯𝘵𝘪𝘢𝘭 𝘱𝘩𝘪𝘭𝘰𝘴𝘰𝘱𝘩𝘺 𝘸𝘪𝘵𝘩 𝘥𝘳𝘢𝘮𝘢𝘵𝘪𝘻𝘦𝘥 𝘢𝘯𝘥 𝘵𝘩𝘦𝘢𝘵𝘳𝘪𝘤𝘢𝘭𝘯𝘢𝘳𝘳𝘢𝘵𝘪𝘰𝘯!" frankly I couldn't agree more. Vergänglichkeit is an allegory that opens the gate to the darkest realms of your own psyche.
For those who are not familiar, Neue Deutsche Todeskunst (New German Death Art). is a style that developed in Germany in the late 1980s and established the German language's place in the world of dark wave. The style is very theatrical and involves neoclassical elements which focus on German philosophy and dark themes that delve into human suffering and death all of which are clearly present and felt with each passing song of this album.

The mostly German vocals and unusual melodies put this album on an entirely different playing field to most dark wave styles. The rhythms and tones seem to hit you from all different directions leaving you with a roller coaster ride of emotion and a heightened sense of self. The ride doesn't stop when you are finished listening to the music, I found myself humming the melodies and thinking deeply on the existential questions that seemed to have been presented to me within these melodic lyrics.
Like a good film I have found myself going back and rewatching their videos and listening to the music repeatedly. Every time I hear it I pick up on another aspect of its dark mysteries.

If you are a fan of dark wave music this is a must listen to album. If you are not familiar with this style of music, I recommend you give this a listen.
Links Order Album :
𝐃𝐞𝐞𝐩 𝐏𝐮𝐫𝐩𝐥𝐞 𝐕𝐢𝐧𝐲𝐥 𝐋𝐢𝐧𝐤:
𝐁𝐥𝐚𝐜𝐤 𝐕𝐢𝐧𝐲𝐥 𝐋𝐢𝐧𝐤:
𝐀𝟓 𝐃𝐢𝐠𝐢𝐩𝐚𝐜𝐤 𝐂𝐃 𝐋𝐢𝐧𝐤:
𝐉𝐞𝐰𝐞𝐥 𝐂𝐚𝐬𝐞 𝐂𝐃 𝐋𝐢𝐧𝐤: